Your wheel's offset number is a measurement from the wheel's mounting face in relation to the centre of your wheel's width. This number will be either Positive, Zero or Negative. Most cars on the road will have a positive offset wheel as this gives vehicle manufactures more room between the wheel's mounting faces. If it is Zero, then your wheel's mounting face is directly in line with the centre of your wheel's width. If it is negative your mounting face would be further back under your car mainly seen on race cars or vehicles with flares etc.
You will most often find this measurement moulded or stamped on your wheel, for example et25 or 25p. This would mean your mounting face is 25mm towards the outside of your rim from half of the wheel's width.
You can check this for yourself by simply using a straight edge and a steel ruler or tape where the increments start from the beginning of the ruler. With your wheel facing down on the ground even with a tyre fitted, measure from the ground through the centre bore hole to your straight edge placed across the top of the wheel, then divide that number by 2. Then measure from the mounting face up to your straight edge. Then subtract the difference from your first measurement. For a positive offset reading it will be greater than your divided first measurement. The difference will be your offset number.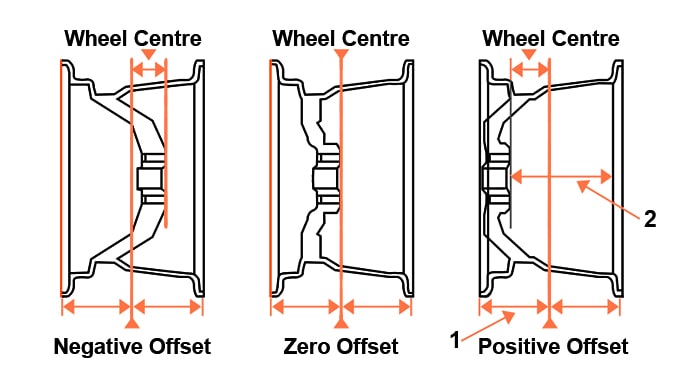 Example: your total width is 300mm therefore your centre of the wheel will be 150mm. Your next measurement down from your straight edge to your mounting face is 175mm then you know you have a 25mm positive offset. If it is 150mm then you have a Zero offset wheel. If it is 125mm then you have 25mm negative offset.
If you are looking at changing your wheel width or offset, then you need to check the fitment to ensure the wheel mounts in a suitable position. By using the offset calculator, you can change your width and offset data to check the new inner and outer positions of your wheel on the vehicle in relation to your current specification. Remember to keep in mind any changes to tyre diameters and widths. I hope this has been helpful! For more information, contact me